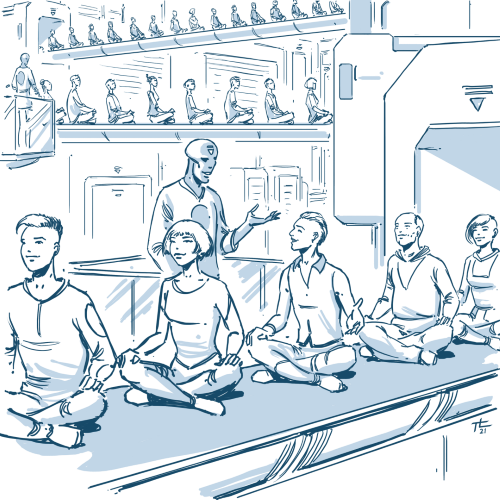 Analyses of the future
We study the future of many fields and industries. We provide a deeper understanding of the emerging ecosystems, including future competitors, partners, startups and regulations. As a result, we determine new growth areas inside and outside existing businesses. The identification of the attitudes and motivations guiding future customers enables entities to select optimal investments in conditions of uncertainty.
Long-term strategies
Exploring the future provides solid foundations for future-proof strategic plans. We help create strategies aimed at achieving long-term goals. We take into account future opportunities and threats as well as early signals of change.

Early warning systems
We create smart procedures for environment monitoring to efficiently update plans and strategies before it's too late. Accurate market development scenarios and the timely detection of new phenomena are the key to running a flexible organisation, one that can safely surf the waves of the future.
4CF HalnyX
4th generation Smart Delphi platform. The world's most advanced application for expert consultations and Delphi research.

4CF's team of experts successfully implemented the HalnyX real-time Delphi tool during an expert survey.

We have cooperated with 4CF on projects devoted to ex-ante analyses and strategy development in the fields of national security and the defence industry. 4CF is a team of competent specialists in strategic foresight.

4CF offers the highest quality of Business Foresight services. They are a reliable partner, worthy of recommendation to all potential clients.
Iwona Pichola
Member of the Board,
Deloitte Poland
Krystian Chmielewski
Vice President,
Kongsberg Defence & Aerospace Poland
Marcin Kubajczyk
Marketing Director,
Hoop Poland
Useful for collecting expert opinions on topics such as the future development of technologies, markets and territories. Facilitates evaluation and decision-making in the medium and long term.
Useful for identifying, verifying and systematising possible development directions in the course of strategic planning and strategic analyses. Provides valuable insights.
Scenario development and future-oriented thinking enable companies to identify future trends and discontinuities, which is key to maintaining a strategic advantage in a dynamically changing environment.
Provides a critical analysis of identified trends, offers a comparison with early signs of change, and challenges implicit assumptions.
Stay updated! Subscribe to our newsletter:
By subscribing to our newsletter, you consent to the processing of the provided data. The data controller is 4CF Sp. z o.o., its registered office is located in Warsaw, 9 Wojciecha Górskiego St., postal code: 00-033.
We process your data solely for the purpose of sending information about 4CF Sp. z o.o. and its activities via e-mail. Your data will be processed until your consent is revoked through a  link that will be included in each newsletter. The withdrawal of consent shall not affect the lawfulness of processing based on consent before its withdrawal. Providing your data is voluntary, but necessary if you wish to receive information about 4CF Sp. z o.o. and its activities. We may transfer the data to our suppliers of services related to the processing of personal data, e.g. IT service providers. Such entities process data on the basis of a contract with our company and only in accordance with our instructions. You have the right to request access to your personal data, its rectification, deletion or limitation of processing, as well as the right to lodge a complaint with the supervisory authority. More information about your rights and about the processing of your personal data can be found in our privacy policy.