4CF Stranger FuturesⓇ
Strategy board game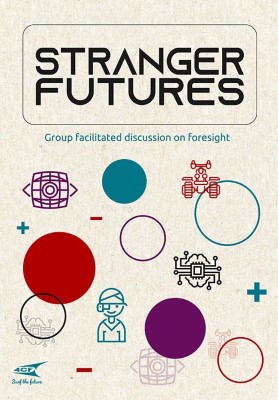 4CF Stranger Futures has proven highly useful in a variety of research applications, ranging from the future of climate change resilience, through cybersecurity, to the future of the payments industry. 
Innovators, analysts of trends and markets, as well as business strategists use 4CF Stranger Futures to deepen their analyses and develop new hypotheses about the development of markets, technologies and social changes.
It is particularly useful for challengers who are developing new products.

4CF Stranger FuturesⓇ
4CF Stranger Futures is a strategy board game. It was designed for professional foresight applications that require the collective intelligence of participants to question assumptions regarding the future of a given area and to identify significant changes. The game, partially inspired by RAND's Assumption-Based Planning (ABP) methodological framework and the Delphi method, is a unique combination of fun with a focus on the validity and usefulness of resulting insights. 

Rules
The game can be played in a number of modes. The simplest is intended for workshops focused on developing the assumption-questioning skills of participants and their ability to envision alternative futures. We recommend more complex game modes to those in need of a thorough analysis and actionable insights, e.g., in the processes of innovation or strategy development. The advanced variant provides an in-depth approach to insights which enables the preparation of analytical reports based directly on game results. 

Goals
One of the game's goals is to encourage the exploration of alternative futures, disruptive events and/or unexpectedly vulnerable assumptions.
Another is to develop the participants' openness to seizing opportunities as they emerge. This requires a conscious suspension of biased reasoning, an analytical approach to diverse scenarios and disruptive events, the ability to question one's assumptions and to avoid naive extrapolations of trends.
4CF Stranger Futures employs the collective intelligence of participants to validate assumptions about the future underlying their companies' strategies and public policies.

Is it for me?
If you, your team or collaborating experts face challenges stemming from a complex future, rapid changes and uncertainty — 4CF Stranger Futures is the perfect choice for you.
Are you trying to find solutions to one of the world's most complex challenges, design an innovative product, develop a marketing plan, come up with an out-of-the-box idea or a winning strategy? You should start by verifying whether your assumptions are not misleading and whether the future is not shaping out to be stranger than you ever imagined (it probably is!).

Suitable both for high-stakes projects and for casual events.

Tested in a wide range of applications, topics, expertise levels and cultural settings.

Valuable, actionable insights obtained in an effortless, fun way.

Never gets outdated and is suited to any topic.

Flexible rules and multiple game modes accommodate a variety of needs and goals.

Highly scalable. Players in a single group: 3-9. Players per workshop: unlimited.
The official game set is produced sustainably. All tokens are made from recycled fishing nets and all game cards are printed on 100% recycled paper obtained from certified forests and other controlled sources.
4CF Stranger FuturesⓇ  is a registered trademark of the
4CF Stranger FuturesⓇ Strategy Board Game

Benefits
The results can serve as input for analytical reports.
Adjustable gameplay time: you can finish the game in just 1 hour or scale it up to a whole day of in-depth gamified discussions based on critical thinking. 4CF Stranger Futures can be used as an element of strategic planning or ideation on an ongoing, cyclical basis.

Free access
The free version of the game (printable game elements and rules) can be downloaded for non-commercial purposes after registration. 4CF Stranger FuturesⓇ is available under the Creative Commons-Attribution-NonCommercial-No Derivatives License 4.0 International Non-Commercial License. If you wish to use this game for private purposes or non-profit initiatives, you only need to register! If you want to use 4CF Stranger FuturesⓇ for professional purposes, please contact us.
Stay updated! Subscribe to our newsletter:
By subscribing to our newsletter, you consent to the processing of the provided data. The data controller is 4CF Sp. z o.o., its registered office is located in Warsaw, 10/14 Trzech Krzyży Square, postal code: 00-499.
We process your data solely for the purpose of sending information about 4CF Sp. z o.o. and its activities via e-mail. Your data will be processed until your consent is revoked through a link that will be included in each newsletter. The withdrawal of consent shall not affect the lawfulness of processing based on consent before its withdrawal. Providing your data is voluntary, but necessary if you wish to receive information about 4CF Sp. z o.o. and its activities. We may transfer the data to our suppliers of services related to the processing of personal data, e.g. IT service providers. Such entities process data on the basis of a contract with our company and only in accordance with our instructions. You have the right to request access to your personal data, its rectification, deletion or limitation of processing, as well as the right to lodge a complaint with the supervisory authority. More information about your rights and about the processing of your personal data can be found in our privacy policy.