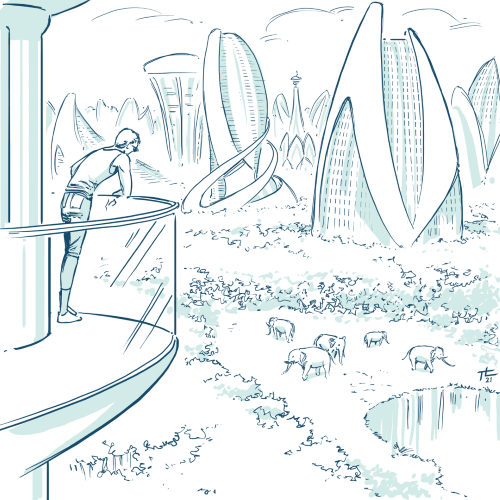 Strategic Audit
The method is used to study strategies, business plans, operational plans, procedures and employee competencies in the context of the future development of enterprises and institutions.
The drafting procedures and the resultant documents are collated with the basic guidelines of strategy development and strategic foresight. Their potential for propelling the implementation of long-term strategic goals is also assessed, as is the flexibility of an organisation, the ability to monitor its environment for new opportunities/threats and to consciously shape the future, mindful of scenarios and prospects for the development of a given industry.
Employees vital to implementing an organisation's plans are also subjected to the strategic audit.

Strategic Intelligence
Strategic Intelligence is employed to monitor the market environment for opportunities and threats and, thus, reach the optimal strategic decisions.
It supplements other methods, including statistical ones, with valuable information about the actions of a company's competitors. The data can be obtained for the needs of a single project, but it is prudent to collect and process it continuously — to identify opportunities and threats early. Unlike industrial espionage, strategic intelligence relies solely on legally available information. When used for the permanent monitoring of an organisation's environment, it increases competitiveness, improves resistance to changes and enables companies to adapt their strategy to a dynamic environment.

Decision Games
Decision games allow organisations of all sizes and profiles to test their hypotheses about the future safely and economically. Much like simulations, they use models of an organisation's critical systems to test and modify the players' assumptions about the future. Decision games can be used to generate new knowledge and to develop the competencies of participants.
Decision games are one of our specialities. We combine thoroughly tested methods developed by American foresight centres with innovative IT tools and provide the support of competent facilitator teams. 4CF offers the highest level of services with regard to the implementation of decision games (wargames) for companies and public institutions.
Our clients are particularly interested in decision games related to security issues (including military, energetic and political security), as well as scenarios intended for high-level managers and specialists. The games inform participants about the complexity of the strategic environment and provide an opportunity to test the imagination and intellectual discipline of employees and external experts.
Our facilitator team comprises professionals with multiple years of experience in designing, moderating, judging and conducting simulations and role-playing sessions. Their competencies include designing and implementing decision games that challenge even the most experienced analysts and managers.
Stay updated! Subscribe to our newsletter:
By subscribing to our newsletter, you consent to the processing of the provided data. The data controller is 4CF Sp. z o.o., its registered office is located in Warsaw, 10/14 Trzech Krzyży Square, postal code: 00-499.
We process your data solely for the purpose of sending information about 4CF Sp. z o.o. and its activities via e-mail. Your data will be processed until your consent is revoked through a link that will be included in each newsletter. The withdrawal of consent shall not affect the lawfulness of processing based on consent before its withdrawal. Providing your data is voluntary, but necessary if you wish to receive information about 4CF Sp. z o.o. and its activities. We may transfer the data to our suppliers of services related to the processing of personal data, e.g. IT service providers. Such entities process data on the basis of a contract with our company and only in accordance with our instructions. You have the right to request access to your personal data, its rectification, deletion or limitation of processing, as well as the right to lodge a complaint with the supervisory authority. More information about your rights and about the processing of your personal data can be found in our privacy policy.