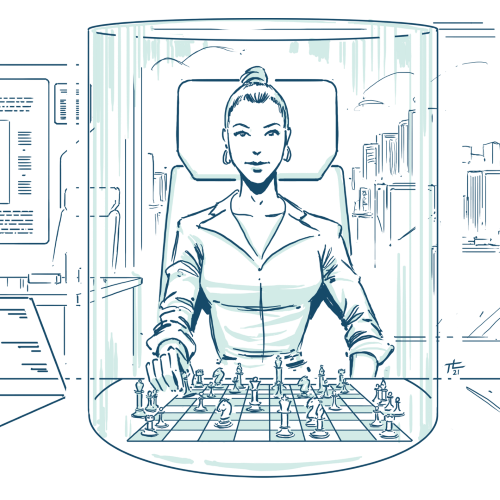 "Companies that employ foresight develop 33% faster than their competitors and obtain 100% higher returns on research and development investments."

Understand the fast evolution of game-changing trends and their impact on your business!

Discover new development opportunities with significant growth potential!
Technological advancement, new business models, changing supply chains, increasing product complexity and industry convergence create new development opportunities for companies and organisations.
Strategic foresight deepens the understanding of upcoming changes and provides tools to incorporate their implications into the operational strategy of an enterprise,  ensuring its sustainable development.

Anticipate tomorrow's breakthroughs and implement a strategy of long-term growth today!
We provide assistance in the creation of long-term growth strategies for an evolving and uncertain future.
Strategic foresight methods and tools can be used to strengthen planning processes. With our support, you can build a sustainable competitive advantage and stay ahead of trends.
Technology and Innovation Development

Plan tomorrow's ventures and innovations that can be prototyped and tested today.
The rapidly evolving market environment and technological progress require the application of new tools and methods to identify areas of future-oriented innovations as early as possible.
To maintain a company's competitive position, managers must perform continuous assessments of their enterprise's potential for implementing new solutions within a given timeframe. We can provide expert assistance in such processes.
Employ qualitative and quantitative methods to identify and analyse future trends.
We use qualitative and quantitative forecasts and scenarios to identify and analyse future political, economic, technological, social and regional trends.
We determine the scope, potential and importance of markets by analysing the entire competitive environment and region/s and/or individual market players.
Whether the focus is economic or social, related to energy or transport, 4CF models and tools provide an interdisciplinary and integrated view of a given topic.
Workshops and Training Courses

Competence building for managers and their teams.
We increase the potential of employees to generate insights, manage risk, identify discontinuities and prepare the company for future changes.
We build the competencies of managers and board members with regard to modern strategic foresight methods. Our tools allow them to avoid threats and manage change. As a result, they are able to seize new opportunities, develop a sustainable business and create breakthrough innovations.
Stay updated! Subscribe to our newsletter:
By subscribing to our newsletter, you consent to the processing of the provided data. The data controller is 4CF Sp. z o.o., its registered office is located in Warsaw, 10/14 Trzech Krzyży Square, postal code: 00-499.
We process your data solely for the purpose of sending information about 4CF Sp. z o.o. and its activities via e-mail. Your data will be processed until your consent is revoked through a link that will be included in each newsletter. The withdrawal of consent shall not affect the lawfulness of processing based on consent before its withdrawal. Providing your data is voluntary, but necessary if you wish to receive information about 4CF Sp. z o.o. and its activities. We may transfer the data to our suppliers of services related to the processing of personal data, e.g. IT service providers. Such entities process data on the basis of a contract with our company and only in accordance with our instructions. You have the right to request access to your personal data, its rectification, deletion or limitation of processing, as well as the right to lodge a complaint with the supervisory authority. More information about your rights and about the processing of your personal data can be found in our privacy policy.