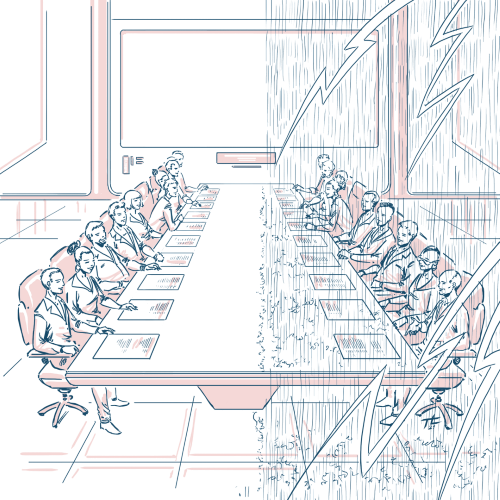 Strategy Sessions and Workshops
Our services include the design and facilitation of online, hybrid and on-site meetings, large group moderation, the facilitation of workshops and processes.
The 4CF-organised sessions and workshops allow you to quickly generate, verify and adjust scenarios of operation, solutions, products, technologies, strategic assumptions etc. If required, they can be used alternately with other methods.
The simplest variant involves two steps. Firstly, a team of experts compiles the initial set of solutions (e.g. scenarios, product and technology examples). During the second stage, we organise sessions with stakeholders aimed at generating alternatives to the proposed solutions as well as verifying, supplementing and evaluating the listed proposals. The employed methodology is adapted to the discussed issues.
The deliverables of strategic sessions are highly project-specific. However, they all have one thing in common — they provide organisations with a step by step plans to ensure their ongoing influence on unfolding events.

Futures Literacy Laboratory
We develop the culture of foresight in enterprises as well as governmental and non-governmental organisations.
The Futures Literacy Knowledge Laboratory (FLKL) is a tool co-developed by 4CF experts within a research project organised by UNESCO and the Rockefeller Foundation. It can be employed to simultaneously generate strategic insights and improve the futures competencies of invited experts.
The method has been used in many projects around the world. Its participatory framework has been employed to answer strategic questions by organisations such as the European Commission, the Institute for Strategic Studies in Tunis, Innovation Norway, FIBA, UNDP and leading global think-tanks.
4CF was the first company in Poland to implement the method. We enriched it with proprietary innovations to adapt FLKL to the analytical needs of our clients.
Stay updated! Subscribe to our newsletter:
By subscribing to our newsletter, you consent to the processing of the provided data. The data controller is 4CF Sp. z o.o., its registered office is located in Warsaw, 10/14 Trzech Krzyży Square, postal code: 00-499.
We process your data solely for the purpose of sending information about 4CF Sp. z o.o. and its activities via e-mail. Your data will be processed until your consent is revoked through a link that will be included in each newsletter. The withdrawal of consent shall not affect the lawfulness of processing based on consent before its withdrawal. Providing your data is voluntary, but necessary if you wish to receive information about 4CF Sp. z o.o. and its activities. We may transfer the data to our suppliers of services related to the processing of personal data, e.g. IT service providers. Such entities process data on the basis of a contract with our company and only in accordance with our instructions. You have the right to request access to your personal data, its rectification, deletion or limitation of processing, as well as the right to lodge a complaint with the supervisory authority. More information about your rights and about the processing of your personal data can be found in our privacy policy.