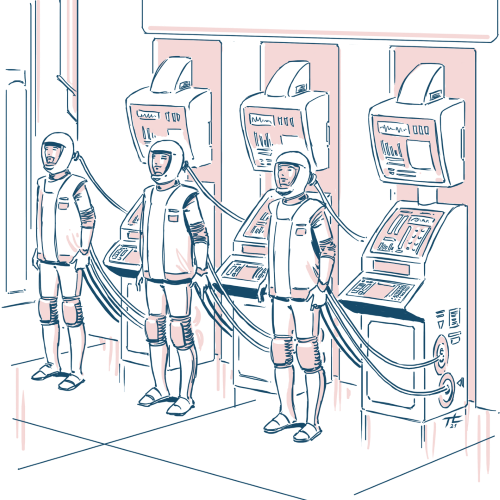 Interdisciplinary analyses
4CF models and tools can provide an interdisciplinary and comprehensive view on a range of topics, including economic, social, energy-related and transport issues.

Qualitative and quantitative methods
We employ qualitative and quantitative forecasts and scenarios to identify and analyse future political, economic, technological, social and regional trends.

Comprehensive analyses of the entire market environment
We analyse the boundaries, potential and significance of particular markets by studying the entire competitive environment, regions and/or individual players.
4CF HalnyX
4th generation Smart Delphi platform. The world's most advanced application for expert consultations and Delphi research.

The services provided by 4CF were conducted according to contractual terms, in a timely and diligent fashion.

4CF provides services at the highest level. Their research services were provided in a timely and efficient manner. I recommend 4CF as a credible and reliable business partner.

The reports provided by 4CF were highly professional and of excellent quality. They were also written in a clear and accessible manner. The supplied data was a significant aid in implementing our plans, and we are willing to continue the cooperation. We recommend 4CF as a reliable partner.
Roman Jaworski
Deputy Chief Inspector of Environmental Protection,
Chief Inspectorate of Environmental Protection
Cristina Ciecierski, Ph. D.
Assistant Professor
Northeastern Illinois University
Katarzyna Urbańska
Director of Legal Affairs
Polish Confederation Lewiatan
Methodical, automated internet browsing with the employment of web scraping tools that extract data for further analysis.
Statistical analyses, which help to optimise corporate strategies and public policies. We are the only company in Poland to base our strategic foresight on reliable quantitative data by integrating methods from the domains of mathematics, social research and psychology with analytical engines and other IT tools.
We employ artificial intelligence tools to scan the horizon for early signs of change. We use tools that facilitate data mining, including data scraping.
We research and analyse various economic, social and political phenomena, issues and data. We take study trends and megatrends, their consequences on the development of technology, innovation, markets, industries, societies and countries. Our analyses and research are the basis for the strategic decision-making and planning processes of companies, public institutions and organisations.
Stay updated! Subscribe to our newsletter:
By subscribing to our newsletter, you consent to the processing of the provided data. The data controller is 4CF Sp. z o.o., its registered office is located in Warsaw, 9 Wojciecha Górskiego St., postal code: 00-033.
We process your data solely for the purpose of sending information about 4CF Sp. z o.o. and its activities via e-mail. Your data will be processed until your consent is revoked through a  link that will be included in each newsletter. The withdrawal of consent shall not affect the lawfulness of processing based on consent before its withdrawal. Providing your data is voluntary, but necessary if you wish to receive information about 4CF Sp. z o.o. and its activities. We may transfer the data to our suppliers of services related to the processing of personal data, e.g. IT service providers. Such entities process data on the basis of a contract with our company and only in accordance with our instructions. You have the right to request access to your personal data, its rectification, deletion or limitation of processing, as well as the right to lodge a complaint with the supervisory authority. More information about your rights and about the processing of your personal data can be found in our privacy policy.