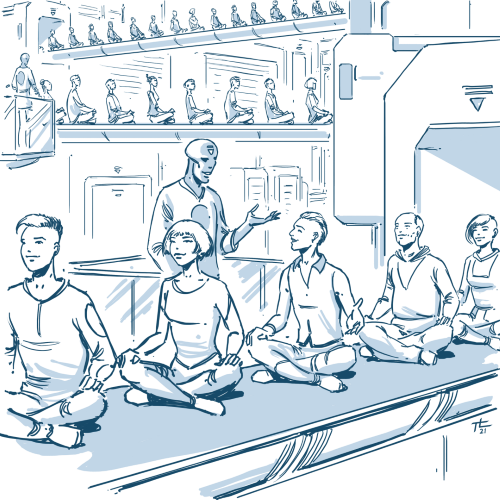 The Delphi method was developed in the 1950s and 60s by the US-based RAND Corporation to facilitate situation assessments conducted by the military's analytical and decision-making centres. It is one of the essential tools of foresight and modern strategy management. Its purpose is to collect expert opinions on topics such as the future development of technologies, markets and territories and, consequently, to facilitate evaluation and decision-making in the medium and long term.
The method enables expert groups to reach a swift consensus on the analysed issues. The results are relatively unaffected by the psychological, rhetorical, and sociological factors that often negatively influence collective discussions. Modern uses of the method provide participants with an environment for continuous online discussions and in-depth analyses. They can visit the virtual platform multiple times, keep track of the debate and ratings, add new arguments and edit previous comments.
Over the last decade, real-time Delphi Studies have been employed worldwide in prestigious projects on multiple topics, including education, technology development, spatial planning, protection of natural resources and regional development planning. They have also been used by the US Air Force to build a consensus among high-ranking officers, scientists, civilian experts, and policymakers.
4CF provides services based on the latest, 4th generation Delphi platform (Smart Delphi) – the world's most advanced system for conducting Delphi Studies. Follow the link to learn more about the 4CF HalnyXⓇ Delphi Platform.

areas; 
The 4CF Matrix can be used to identify, verify and systematise possible development directions in the course of strategic planning and strategic analyses. It provides valuable insights and has been thoroughly tested in applications such as strategy development for companies, corporations and military institutions; innovation planning; the identification of possible development directions for various areas, sectors and markets in complex, multi-week processes of long-term strategy development.
The 4CF Matrix provides a fast systematisation of solutions, trends and innovations. It facilitates the identification of crucial solutions that should be considered in the process of planning a company's strategy.
Key variables on the 4CF Matrix:
Relative Advantage (RA) — the degree to which a proposed solution might improve the current realisation of a particular need, both in relation to present mainstream solutions and to hypothetical future ones. Scenario analyses often substitute RA with ARA — Average Relative Advantage, i.e. the relative benefit averaged for future scenarios.
Earliest Time to Mainstream (ETM) — the minimum amount of time needed for the dissemination of a solution, considering aspects such as delays caused by technological, financial, social, and legal barriers. The moment of dissemination is defined as the point in time when the solution becomes available (both in terms of distribution and, e.g., financially) to the majority of the target group.

Trend Map
A Trend Map systematises current trends and is the point of departure for strategic analyses aimed at discovering future trends, opportunities and threats. It is a crucial element of strategy-building and an aid in determining the optimal directions of development for enterprises and organisations. It provides a critical analysis of identified trends, offers a comparison with early signs of change, and challenges implicit assumptions.

Trend Lens
The Trend Lens allows decision-makers to easily identify new sources of strategic advantage. It can be shared as an interactive infographic with board members and managers on a company's intranet. They can introduce updates on an ongoing basis as part of the Delphi-based knowledge management and scouting system.
Detection of Weak Signals
To look ahead means primarily to detect early signs of change — the so-called weak signals. Weak signals are evidence-based, early, imprecise and easy-to-omit signs of impending significant events and their consequences. Examples include the Pocket Receiver – a precursor of today's smartphones/tablets – described in Stanisław Lem's 1955 novel Cloud of Magellan, and SAGE, the world's first computer network launched in 1958, a precursor of today's Internet.

Futures Scenarios
Scenario development and future-oriented thinking enable companies to identify future trends and discontinuities, which is key to maintaining a strategic advantage in a dynamically changing environment and to weathering crises. 4CF provides services based on scenario analysis and strategic foresight methods with a wide range of applications.

Scenarios based on Collective Intelligence
When it comes to making decisions and predicting or solving problems of varying complexity, large groups of people can be more efficient than even the most prominent experts. The phenomenon of crowd wisdom is helpful in solving certain complex issues, and the method's potential has been verified by numerous studies.

Rip van Winkle Method
The method was developed by RAND as part of the Assumptions Based Planning methodology. Its purpose is to identify assumptions about the future. The resulting sets of assumptions/uncertainties become the foundation for formulating hypotheses.
Stay updated! Subscribe to our newsletter:
By subscribing to our newsletter, you consent to the processing of the provided data. The data controller is 4CF Sp. z o.o., its registered office is located in Warsaw, 10/14 Trzech Krzyży Square, postal code: 00-499.
We process your data solely for the purpose of sending information about 4CF Sp. z o.o. and its activities via e-mail. Your data will be processed until your consent is revoked through a link that will be included in each newsletter. The withdrawal of consent shall not affect the lawfulness of processing based on consent before its withdrawal. Providing your data is voluntary, but necessary if you wish to receive information about 4CF Sp. z o.o. and its activities. We may transfer the data to our suppliers of services related to the processing of personal data, e.g. IT service providers. Such entities process data on the basis of a contract with our company and only in accordance with our instructions. You have the right to request access to your personal data, its rectification, deletion or limitation of processing, as well as the right to lodge a complaint with the supervisory authority. More information about your rights and about the processing of your personal data can be found in our privacy policy.