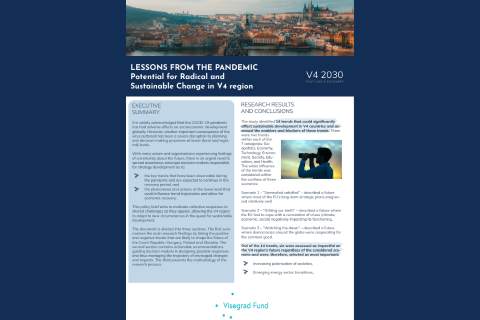 Lessons from the Pandemic: Potential for Radical and Sustainable Change in V4 region
It is widely acknowledged that the COVID-19 pandemic has had adverse effects on socioeconomic development globally. However, another important consequence of the virus outbreak has been a severe disruption to planning and decision-making processes at lower (local and regional) levels. 
With many actors and organisations experiencing feelings of uncertainty about the future, there is an urgent need to spread awareness amongst decision-makers responsible for strategy development as to:
the key trends that have been observable during the pandemic and are expected to continue in the recovery period, and 

the phenomena and actions at the lower level that could influence trend trajectories and allow for economic recovery.
This policy brief aims to motivate collective responses to shared challenges as they appear, allowing the V4 region to adapt to new circumstances in the quest for sustainable development.
The document is divided into three sections. The first summarises the main research findings by listing the positive and negative trends that are likely to shape the future of the Czech Republic, Hungary, Poland and Slovakia. The second section contains actionable recommendations guiding decision-makers in designing possible responses and thus managing the trajectory of envisaged changes and impacts. The third presents the methodology of the research process. 
Policy Brief in English: V4 2030 Policy Paper
Policy Brief in Czech: V4 2030 Policy Paper in Czech
Policy Brief in Polish: V4 2030 Dokument Programowy
Policy Brief in Slovak: V4 2030 Policy Paper Slovak
Policy Brief in Hungarian: V4 2030 Policy Paper Hungarian
Stay updated! Subscribe to our newsletter:
By subscribing to our newsletter, you consent to the processing of the provided data. The data controller is 4CF Sp. z o.o., its registered office is located in Warsaw, 10/14 Trzech Krzyży Square, postal code: 00-499.
We process your data solely for the purpose of sending information about 4CF Sp. z o.o. and its activities via e-mail. Your data will be processed until your consent is revoked through a link that will be included in each newsletter. The withdrawal of consent shall not affect the lawfulness of processing based on consent before its withdrawal. Providing your data is voluntary, but necessary if you wish to receive information about 4CF Sp. z o.o. and its activities. We may transfer the data to our suppliers of services related to the processing of personal data, e.g. IT service providers. Such entities process data on the basis of a contract with our company and only in accordance with our instructions. You have the right to request access to your personal data, its rectification, deletion or limitation of processing, as well as the right to lodge a complaint with the supervisory authority. More information about your rights and about the processing of your personal data can be found in our privacy policy.