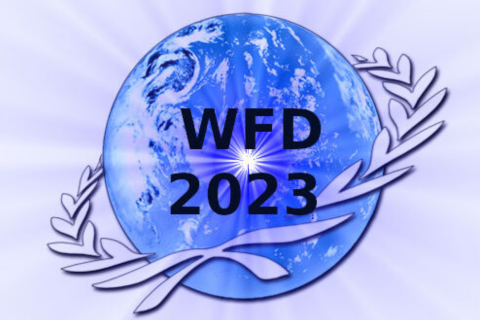 JOIN A 24-HOUR CONVERSATION AMONG PEOPLE FROM AROUND THE WORLD TO CELEBRATE WORLD FUTURE DAY. WE START ON 1 MARCH IN NEW ZEALAND, AT 12:00 LOCAL TIME. WE END AT 12:00 IN HAWAII. THIS IS AN OPEN CONVERSATION ABOUT HOW TO BUILD A BETTER FUTURE. YOU CAN JOIN AT ANY TIME TO MEET FUTURE EXPERTS AND DEBATE OUR FUTURE TOGETHER.
Each year on 1 March, people talk about the possible worlds of tomorrow. This is the tenth time that world thought leaders will share their views on the future of humanity.  Not to convince each other of their visions, but to share knowledge, research results on the future, develop cooperation and make new friends. Last year we touched on topics such as the management of artificial intelligence, the future of work, the construction of space lifts for orbital cities. We talked about combating climate change, ensuring access to water or energy. We debated the development of future forms of democracy, countering information warfare, integrating global ethics into decision-making, enforcing safety standards in synthetic biology. What do you think will be discussed this year?
World Future Day events allow you to broaden your horizons, to share visions of the future with people from different countries, disciplines and cultures. It is a chance to go beyond one's own perception of the world and see different perspectives of the future, as well as future trends that one may have overlooked until now. Anyone can take a seat at this global table and join the live discussion. Whichever time zone you live in, the doors are open, callers join and leave as they please. If you can't log on at 12 noon, join before or after that time. To participate in the discussion led by Kacper Nosarzewski, from 4CF The Futures Literacy Company, join the conference at 12 noon Polish time. Yet before World Future Day, we will provide a Zoom video link so you can participate!
WE INVITE EVERYONE TO CELEBRATE THE WORLD FUTURE DAY
We warmly invite you all to celebrate World Future Day on 1 March! Everyone can do it in their own way, by organising a future-focused meeting at work or school, giving a talk, inviting an expert, or perhaps simply revisiting a science-fiction read or film. Let's take this opportunity to ask ourselves questions about what kind of future we want, what kind of future we want to prevent and what kind of future we are contributing to. Also be sure to let us know on social media that you are celebrating with the hashtag #worldfutureday. We will be looking for your publications!
4CF The Futures Literacy Company is also involved in World Future Day, which is animated by The Millennium Project in collaboration with a range of partners. This year, World Future Day is supported by the Association of Professional Futurists, Humanity+, Lifeboat Foundation,  World Academy of Art and Science and World Futures Studies Federation.
The Millennium Project is the largest global foresight think-tank, bringing together experts from corporations, universities, NGOs, EU and government institutions around the world. In Poland, The Millennium Project is represented by 4CF The Futures Literacy Company.
OTHER EVENTS OF THE DAY
A number of other conferences and events will also take place on World Future Day, including a Teach the Future conference entitled World Future Day Young Voices. Its target audience is children and young people from around the world. Like The Millennium Project event, the Teach the Future conference will be organised as online workshops conducted around the world in 24 hours. Teach the Future particularly encourages the participation of young people to share their perception of the world and its future.
This year, the Teach the Future conference workshop will be moderated by Kacper Nosarzewski, partner at 4CF The Futures Literacy Company and expert at the Polish Society for Futures Studies, and Mateusz Wyrzykowski  at 19.00 Polish time.
Teach the Future is a global movement to engage young people in envisioning and influencing the future, both in and out of school. It is also designed for teachers and other educators to bring futures thinking into schools. Anyone can attend the Teach the Future conference. More details and free registration are available here.
World Future Day is a great opportunity to exchange ideas about the future with people from all over the world. It will undoubtedly be a valuable experience for anyone who wants to prepare themselves or their company for the coming opportunities and threats. Participating in the World Future Day can be a first step towards developing your competence in future studies or networking with experts and other forward-thinkers.
FUTUROLOGY – FUTURES STUDIES
Futures studies is a research discipline analysing possible future developments. At first, futures studies mainly focused on attempts to predict future processes and events. Over the past few decades, influenced among other things by the development of complexity studies and computer and psychological research in the field of forecasting, futures studies have developed significantly. The field now focuses on creating alternative visions of the future, identifying the most likely and most desirable scenarios. It also identifies factors that can contribute to the optimal shaping of the future.
A variety of methods are used for research, such as statistical modelling (based on econometric models or extrapolation of historical data), strategy sessions (where future scenarios are worked out with experts), the Delphi method (where forecasts and assessments of hypotheses about the future are worked out by groups of experts), or decision games. Foresight also deals with the analysis of megatrends, i.e. long-term global processes that define the future. Megatrends are structural changes concerning, among other things, society, the economy, ecology or the development of new technologies.
Futures studies are an important line of research, allowing society, companies and organisations to develop competences in forward-looking planning. Through new methods, techniques and habits, they improve planning and strategic decision-making. Foresight is extremely useful for effectively achieving goals by shaping the future and exploiting emerging opportunities.
uake has huge political significance. This can be seen from the behaviour of Erdoğan himself, who understands that the battle for his political survival has begun, said Dr Karol Wasilewski, Turkey expert and consultant at 4CF The Futures Literacy Company, in an interview.
Stay updated! Subscribe to our newsletter:
By subscribing to our newsletter, you consent to the processing of the provided data. The data controller is 4CF Sp. z o.o., its registered office is located in Warsaw, 10/14 Trzech Krzyży Square, postal code: 00-499.
We process your data solely for the purpose of sending information about 4CF Sp. z o.o. and its activities via e-mail. Your data will be processed until your consent is revoked through a link that will be included in each newsletter. The withdrawal of consent shall not affect the lawfulness of processing based on consent before its withdrawal. Providing your data is voluntary, but necessary if you wish to receive information about 4CF Sp. z o.o. and its activities. We may transfer the data to our suppliers of services related to the processing of personal data, e.g. IT service providers. Such entities process data on the basis of a contract with our company and only in accordance with our instructions. You have the right to request access to your personal data, its rectification, deletion or limitation of processing, as well as the right to lodge a complaint with the supervisory authority. More information about your rights and about the processing of your personal data can be found in our privacy policy.