V4 2030 Delphi Study Report
V4 2030 Delphi Study Report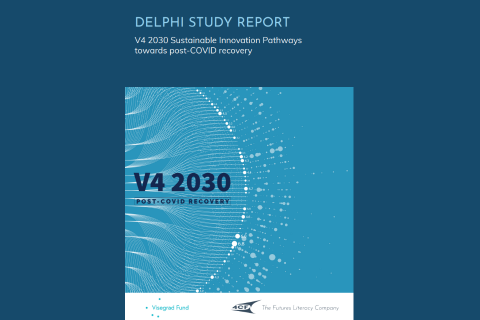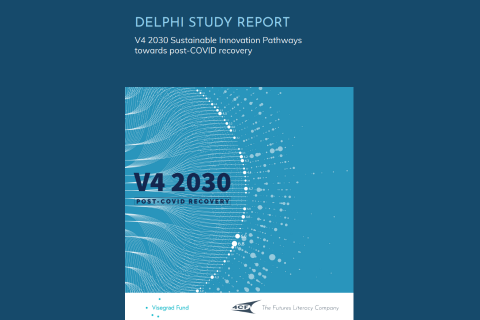 We are pleased to announce that our Delphi Study Report "V4 2030 Sustainable Innovation Pathways towards post-COVID recovery" is already available. 
Executive summary
This report summarizes the research undertaken at a regional level in an effort to collectively envision an array of potential emergent futures and to discover opportunities that can guide the post-COVID transformation toward desirable sustainable futures, and away from undesirable, unsustainable development trajectories.
The main aim of the study was to assess enablers and blockers of trends, which can influence future sustainable development within the Visegrad region consisting of Czechia, Hungary, Poland and Slovakia. 
In total, fourteen trends were analyzed by the panel of international experts in the online Delphi study, which took place in April 2022. 
The results are organized under the seven thematic categories: Geopolitics, Economy, Technology, Environment, Society, Education and Health. 
It is understood that the future post-COVID is filled with challenges when it comes to sustainability performance. Therefore, most of the identified trends on their own – even the positive ones – are unlikely to provide an impact big enough to determine the path of unfolding transformations to sustainability of the V4 region. However, it is possible to identify the trends that require special attention from policy makers due to their highest overall influence on sustainability prospects of the V4 region. 
The top 5 most important trends were found to be:
Increasing disinformation and circulating conspiracy theories,

Increasing polarization of societies,

Persisting gap in quality of education between the V4 countries and better performing EU states,

Deterioration of the rule of law,

Emerging energy sector transitions.
According to experts' knowledge and assessment, the impact of trends with negative influence on the V4 group sustainability is much stronger than the one of positive ones. Secondly, experts opined that blockers with positive impact on trends have much higher influence on sustainability than blockers with negative impact. 
This leads to a conclusion that the most effective strategy for reaching the desired level of sustainability in the V4 region should focus on the policies built around the blockers, which neutralize or slow down negative trends, like social anxiety over energy transformation or  lack of social acceptance of AI technology, rather than around those blockers that weaken positive trends. 
Some of the most efficient policy pathways indicated in the course of the Delphi study, that would effectively address the challenging trends in an effort to reach the desired level of sustainability, would be to: 
Develop civil society capacities,

Revitalise education – both by prioritisation of STEM subjects and linking them with SSH themes and by innovative teaching practices, and pedagogical innovations,

Monitor the infosphere to limit the spreading of conspiracy theories and targeted disinformation campaigns, and to improve access to varied sources of information,

Introduce effective socio-economic and policy innovations – Universal Basic Income as an example to test,

Secure peace and democracy in the neighbouring countries,

Increase the dependency of the availability of the EU funding on the beneficiary country compliance with the rule of law,

Increase the political pressure around the world concerning climate change mitigation and adaptation,

Find ways to effectively deal with the social anxiety over the energy market transformation i.e. through local community building strategies and development of key skills (such as: entrepreneurial skills, critical thinking, systems thinking, future- orientation).
Authors
Lead authors
Maciej Jagaciak,

4CF The Futures Literacy Company

Joanna Jaworska,

4CF The Futures Literacy Company

Norbert Kołos,

4CF The Futures Literacy Company

Weronika Rafał,

4CF The Futures Literacy Company

Anna Sacio-Szymańska,

4CF The Futures Literacy Company
The development of the study was supported by the research team of the V4 2030 project and 41 external experts who participated in the real-time Delphi survey, whom we would like to thank for participation in our research. Experts who have expressed a wish to be recognised as contributors are mentioned below.
Lead contributors
Judit Gáspár,

Corvinus University of Budapest

Klaudia Gubová,

University of Economics in Bratislava

Éva Hideg,

Hungarian Academy of Sciences

Eva Komlossyova,

Palacký University Olomouc

Lucie Macková,

Palacký University Olomouc

Peter Markovič,

University of Economics in Bratislava

András Márton,

Corvinus University of Budapest
Delphi experts
Tamás Demus

Knorr-Bremse, Rail System Budapest

Elisabeth Florescu,

The Millenium Project

Zuzana Harmáčková,

Czech Academy of Sciences

Joanna Jędrzejewska,

University of Warsaw

Tamás Kristóf,

Corvinus University of Budapest

Toni Luomaranta,

Tampere University

Joanna Łabędzka,

Jan Kochanowski, University of Kielce

Stefanie Ollenburg,

Freie Universität Berlin / HBK Braunschweig

Michal Pazour,

Technological Centre of the Czech Academy of Sciences

Beata Poteralska,

Jan Kochanowski, University of Kielce

Justyna Szczepanik,

University of Warsaw

Amos Taylor,

Turku School of Economics

Klára Tóthné Szita,

ÉMI

Ondrej Valenta,

Independent expert in foresight

Mateusz Wyrzykowski,

University of Warsaw
You can access the whole report here: V4_2030_Delphi_Study_Report
Stay updated! Subscribe to our newsletter:
By subscribing to our newsletter, you consent to the processing of the provided data. The data controller is 4CF Sp. z o.o., its registered office is located in Warsaw, 10/14 Trzech Krzyży Square, postal code: 00-499.
We process your data solely for the purpose of sending information about 4CF Sp. z o.o. and its activities via e-mail. Your data will be processed until your consent is revoked through a link that will be included in each newsletter. The withdrawal of consent shall not affect the lawfulness of processing based on consent before its withdrawal. Providing your data is voluntary, but necessary if you wish to receive information about 4CF Sp. z o.o. and its activities. We may transfer the data to our suppliers of services related to the processing of personal data, e.g. IT service providers. Such entities process data on the basis of a contract with our company and only in accordance with our instructions. You have the right to request access to your personal data, its rectification, deletion or limitation of processing, as well as the right to lodge a complaint with the supervisory authority. More information about your rights and about the processing of your personal data can be found in our privacy policy.