The great comeback of space
The great comeback of space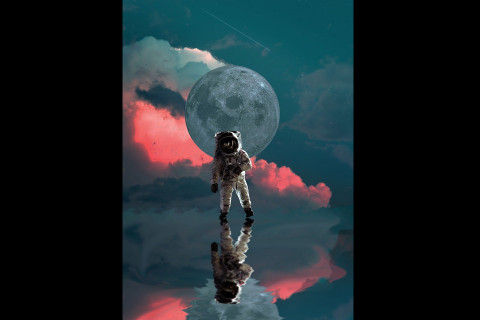 Saturday's Plus Minus section of the Rzeczpospolita daily contains an article on the Great Comeback of Space with Kacper Nosarzewski's comments on the potential benefits of space exploration and the plausibility of space mining or even the transfer of heavy industry beyond Earth.
"Space assets are expected to bring socio-economic benefits in many areas. Firstly, it is thought that the space resource industry could generate market revenues between EUR 73 and 170 billion in 2018-2045, employ 845,000 to 1.8 million people and result in productivity gains estimated at EUR 54 to 135 billion. It is quite possible, however, that these developments will not happen at all.
The second group of potential benefits includes technological advances in areas such as materials science, manufacturing, additive manufacturing, robotics, and data analysis. It is also expected that the exploration and exploitation of space will reduce dependence on Earth's limited resources. Of course, the benefits of developing our science, knowledge, research capabilities and education cannot be overlooked."
"Industrial mining operations are likely to remain beyond our reach for several decades. Non-planetary mining has still not taken off. Actually, nothing noteworthy has happened in the field within the past few years. We are at a critical time with regard to the development of the technology and relevant regulations.
Recently, lunar helium-3 has become a hot topic. It is the only economically viable mineral on the Moon, given the current and likely future technologies and opportunities for space travel. Helium-3 could revolutionise the energy industry as a fuel for thermonuclear reactions. Its applications include medicine (e.g. improving the quality of X-rays) and security (e.g. explosives detection). Research on the extraction of helium-3 is conducted by US Nuclear Corp. and the Cracow-based Solar System Resources Corporation. The study, however, is only in its first phase, devoted to the identification of deposits that will ensure easy and profitable exploitation.
Another interesting aspect is that the extraction of lunar ice for the production of drinking water and rocket fuel is considered a key step for the possible colonisation of the Moon and other extraterrestrial bodies. It would be a much cheaper way of supplying bases, stations and satellites. This project will also take many years to complete. Currently, NASA is preparing to study lunar water up close. The possibility of refuelling a permanent moon-base, satellites or spacecraft in orbit with fuel obtained from lunar water could save billions. It would also enable fuel storage for long, interplanetary travel."
Stay updated! Subscribe to our newsletter:
By subscribing to our newsletter, you consent to the processing of the provided data. The data controller is 4CF Sp. z o.o., its registered office is located in Warsaw, 9 Wojciecha Górskiego St., postal code: 00-033.
We process your data solely for the purpose of sending information about 4CF Sp. z o.o. and its activities via e-mail. Your data will be processed until your consent is revoked through a  link that will be included in each newsletter. The withdrawal of consent shall not affect the lawfulness of processing based on consent before its withdrawal. Providing your data is voluntary, but necessary if you wish to receive information about 4CF Sp. z o.o. and its activities. We may transfer the data to our suppliers of services related to the processing of personal data, e.g. IT service providers. Such entities process data on the basis of a contract with our company and only in accordance with our instructions. You have the right to request access to your personal data, its rectification, deletion or limitation of processing, as well as the right to lodge a complaint with the supervisory authority. More information about your rights and about the processing of your personal data can be found in our privacy policy.