Strategic foresight helps creating the best PR campaigns
Strategic foresight helps creating the best PR campaigns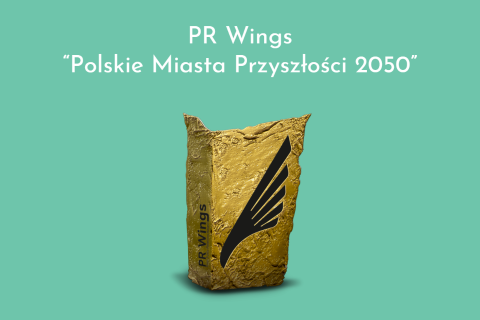 The communication campaign of the project "Polish cities of the future 2050" by Saint-Gobain, which was designed and implemented by Icon Strategies, and for which foresight research and a report were prepared by: Polish Society for Future Studies and 4CF The Futures Literacy Company won the gold statuette in the PR Wings competition, the corporate PR category. 
The award for Icon Strategies also makes us happy. Our team helped Saint-Gobain and Icon Strategies, as well as all the stakeholders, the campaign was addressed to, to look into the future and see how we will be living, working and relaxing in Polish cities in 30 years' time. The campaign was designed to communicate Saint-Gobain Group's overarching goal – Making the world a better home. For the campaign, we have created the first foresight study on 'What Poland's cities of the future will look like' and produced a report on the future of cities in 2050 in six areas. The report also included a comparison of Poland's seven largest agglomerations, showing which city was likely to 'reach 2050' the fastest in a given category. The report was one of the key tools of the campaign.
The outstanding results of the campaign also confirm the strong interest of stakeholders, including the media, in the future. Strategic foresight and visions of the future therefore help to build not only knowledge relevant to prepare effective strategies and breakthrough innovations, but also valuable and interesting content used in communication and image building of companies. 
The PR Wings competition awards the most effective, creative and innovative projects in the field of broadly understood communication and public relations. The projects were judged by a jury of dozens of experienced public relations experts.
If you would like to find out more about the project, please visit the Saint-Gobain website.
Stay updated! Subscribe to our newsletter:
By subscribing to our newsletter, you consent to the processing of the provided data. The data controller is 4CF Sp. z o.o., its registered office is located in Warsaw, 9 Wojciecha Górskiego St., postal code: 00-033.
We process your data solely for the purpose of sending information about 4CF Sp. z o.o. and its activities via e-mail. Your data will be processed until your consent is revoked through a  link that will be included in each newsletter. The withdrawal of consent shall not affect the lawfulness of processing based on consent before its withdrawal. Providing your data is voluntary, but necessary if you wish to receive information about 4CF Sp. z o.o. and its activities. We may transfer the data to our suppliers of services related to the processing of personal data, e.g. IT service providers. Such entities process data on the basis of a contract with our company and only in accordance with our instructions. You have the right to request access to your personal data, its rectification, deletion or limitation of processing, as well as the right to lodge a complaint with the supervisory authority. More information about your rights and about the processing of your personal data can be found in our privacy policy.