Resilience Frontiers meeting in Botswana
Resilience Frontiers meeting in Botswana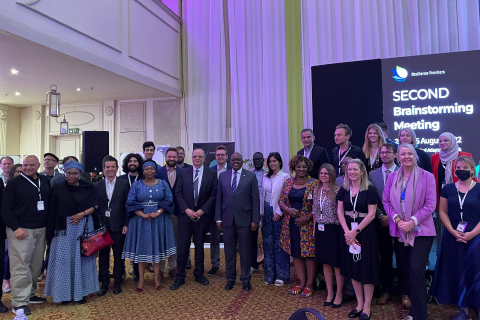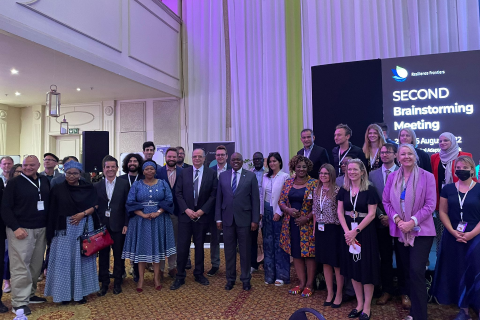 4CF The Futures Literacy Company facilitated the Resilience Frontiers second brainstorming meeting in Gaborone, Botswana as a part of the Botswana Global Adaptation Week 2022. 
The Botswana Global Adaptation Week is one of the major adaptation events of the year which aims to showcase and promote actions and practices to adapt to the impacts of climate change. It offers a platform to raise adaptation ambition by accelerating the formulation and implementation of countries' National Adaptation Plans (NAPs) as well as foresight thinking for resilience.
During the Resilience Frontiers brainstorming meeting, a diverse range of thought leaders and organizations have unpacked the eight Resilience Frontiers pathways towards a better world and discussed the visions and values underpinning them and identified first-mover actions that will accelerate the journey. The RF eight pathways are:
Transforming humanity's relationship with nature

Lifelong learning for environmental stewardship

Ensuring universal equitable coverage of, and open-access to (big) data and information

Managing water and other natural resources equitably and inclusively

Managing transboundary issues equitably

Applying a holistic, ecosystem-centered approach to optimize future health and well-being

Regenerative food production

Developing transformative financial instruments
At the meeting we were honored by the visit of The President of Botswana Mokgweetsi Masisi and Philda Nani Kereng, Minister of Environment, Natural Resources Conservation and Tourism.
More information on the event is available on the Resilience Frontiers webpage. 
Stay updated! Subscribe to our newsletter:
By subscribing to our newsletter, you consent to the processing of the provided data. The data controller is 4CF Sp. z o.o., its registered office is located in Warsaw, 10/14 Trzech Krzyży Square, postal code: 00-499.
We process your data solely for the purpose of sending information about 4CF Sp. z o.o. and its activities via e-mail. Your data will be processed until your consent is revoked through a link that will be included in each newsletter. The withdrawal of consent shall not affect the lawfulness of processing based on consent before its withdrawal. Providing your data is voluntary, but necessary if you wish to receive information about 4CF Sp. z o.o. and its activities. We may transfer the data to our suppliers of services related to the processing of personal data, e.g. IT service providers. Such entities process data on the basis of a contract with our company and only in accordance with our instructions. You have the right to request access to your personal data, its rectification, deletion or limitation of processing, as well as the right to lodge a complaint with the supervisory authority. More information about your rights and about the processing of your personal data can be found in our privacy policy.