New Proxy to the 4CF Management Board
New Proxy to the 4CF Management Board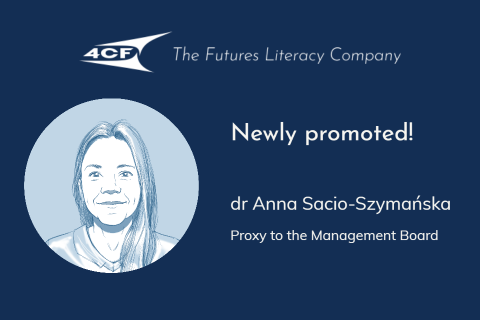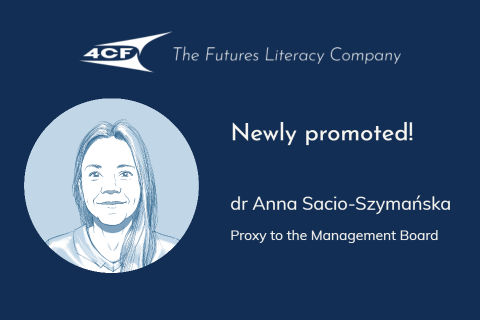 Dr Anna Sacio-Szymańska has been promoted to Proxy of the 4CF Management Board
We're happy to announce that our colleague – dr Anna Sacio-Szymańska – has been promoted to the Proxy of the Management Board. All the best in your new role Anna! 
Anna has been with 4CF The Futures Literacy Company since 2019, previously holding the position of strategic account manager for the company. She has now been appointed as a Proxy to the Management Board.
Dr Sacio-Szymanska is also vice president of the Foresight Europe Network, a member of The Millennium Project and the Polish Society for Futures Studies. She has extensive experience in innovation management, foresight and the creation of conditions for international cooperation between science and business; which she gained during her 15 years of scientific work at ITeE – PIB, since 2019 part of the Łukasiewicz Research Network.
She has led and participated in more than a dozen European and national R&D projects in areas such as technological foresight, building foresight competencies, analysis of competitiveness and innovation of economies, Industry 4.0 and sustainable development. Among others, she has implemented projects on equitable transformation in Central European Countries and the future of biometrics in the EU working with the European Institute of Innovation and Technology EIT Climate-KIC and the European Border and Coast Guard Agency (Frontex).
She has published on the determinants and outcomes of foresight implementation in the public sector and business in Springer Nature, European Journal of Futures Research, Procedia Engineering, Engineering Management in Production and Services and Foresight and STI Governance. She is an expert evaluating proposals in the EU Framework Programmes: Horizon 2020 – Science for Society 2020 and Horizon Europe.
Stay updated! Subscribe to our newsletter:
By subscribing to our newsletter, you consent to the processing of the provided data. The data controller is 4CF Sp. z o.o., its registered office is located in Warsaw, 9 Wojciecha Górskiego St., postal code: 00-033.
We process your data solely for the purpose of sending information about 4CF Sp. z o.o. and its activities via e-mail. Your data will be processed until your consent is revoked through a  link that will be included in each newsletter. The withdrawal of consent shall not affect the lawfulness of processing based on consent before its withdrawal. Providing your data is voluntary, but necessary if you wish to receive information about 4CF Sp. z o.o. and its activities. We may transfer the data to our suppliers of services related to the processing of personal data, e.g. IT service providers. Such entities process data on the basis of a contract with our company and only in accordance with our instructions. You have the right to request access to your personal data, its rectification, deletion or limitation of processing, as well as the right to lodge a complaint with the supervisory authority. More information about your rights and about the processing of your personal data can be found in our privacy policy.