New interviews on transformacja2050.pl
New interviews on transformacja2050.pl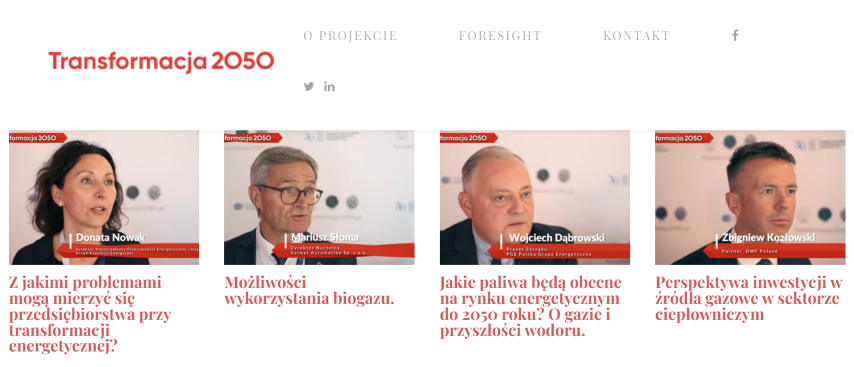 Investments prospects for the gas heating sector. Which fuels will be present on the energy market until 2050? The uses of biogas and the possibility of converting coal boilers into biomass boilers. You can read about these and other vital issues related to energy transformation on the transformacja2050.pl portal.
The latest entries include interviews with attorney Zbigniew Kozłowski from DWF, Wojciech Dąbrowski – president of PGE and Mariusz Słoma from Valmet Automation.
"Quick investment decisions, both in conventional (but low-carbon) and renewable technologies contribute to the sustainable transformation of the sector and bring us closer to meeting the goals of the European Green Deal." – says attorney Zbigniew Kozłowski, managing partner at the Department of Environment and Project Development at DWF (Poland).
Which fuels will be present on the energy market until 2050? As regards gas and the future uses of hydrogen: "Achieving climate neutrality will be a gradual process. Gas-based heating has been used for years, so we will be using gas with the addition of RES for some time to come. " – says Wojciech Dąbrowski, president of PGE Polska Grupa Energetyczna.
Mariusz Sloma from Valmet Automation discussed the possibility of converting coal boilers to biomass as one of the paths to a simple transition from coal fuels, provided that biomass is available.
Stay updated! Subscribe to our newsletter:
By subscribing to our newsletter, you consent to the processing of the provided data. The data controller is 4CF Sp. z o.o., its registered office is located in Warsaw, 9 Wojciecha Górskiego St., postal code: 00-033.
We process your data solely for the purpose of sending information about 4CF Sp. z o.o. and its activities via e-mail. Your data will be processed until your consent is revoked through a  link that will be included in each newsletter. The withdrawal of consent shall not affect the lawfulness of processing based on consent before its withdrawal. Providing your data is voluntary, but necessary if you wish to receive information about 4CF Sp. z o.o. and its activities. We may transfer the data to our suppliers of services related to the processing of personal data, e.g. IT service providers. Such entities process data on the basis of a contract with our company and only in accordance with our instructions. You have the right to request access to your personal data, its rectification, deletion or limitation of processing, as well as the right to lodge a complaint with the supervisory authority. More information about your rights and about the processing of your personal data can be found in our privacy policy.