Kacper Nosarzewski has become the mentor of InCredibles
Kacper Nosarzewski has become the mentor of InCredibles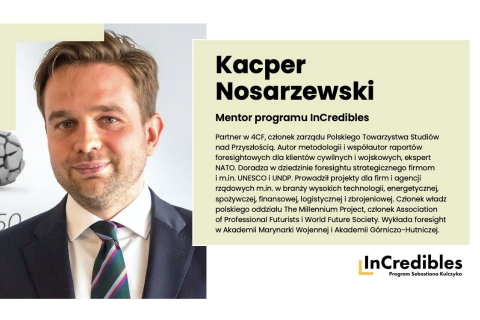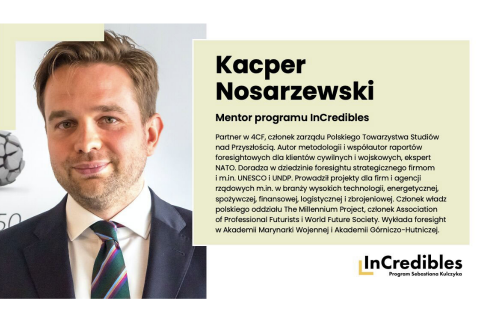 We are delighted to have Kacper Nosarzewski of 4CF The Futures Literacy Company as a mentor for Sebastian Kulczyk's InCredibles – the most comprehensive and long-term competence-building and promotion programme that has been bringing together, training and integrating the best Polish start-ups since 2017. 
The programme is based on a proprietary formula of "tailor-made" workshops and individual consultations with mentors, potential clients, investors and recognised business practitioners. The programme is free of charge and only winners of leading competitions that identify outstanding young Polish entrepreneurs are invited.
As part of its activities, InCredibles co-creates specialised reports, debates, publications and patronises educational events. It is also the initiator of the first MBA studies for start-ups in Poland (in cooperation with the Warsaw School of Economics) and the Firmament programme on Radio 357. More than 50 companies already belong to the prestigious group of InCredibles.
Stay updated! Subscribe to our newsletter:
By subscribing to our newsletter, you consent to the processing of the provided data. The data controller is 4CF Sp. z o.o., its registered office is located in Warsaw, 9 Wojciecha Górskiego St., postal code: 00-033.
We process your data solely for the purpose of sending information about 4CF Sp. z o.o. and its activities via e-mail. Your data will be processed until your consent is revoked through a  link that will be included in each newsletter. The withdrawal of consent shall not affect the lawfulness of processing based on consent before its withdrawal. Providing your data is voluntary, but necessary if you wish to receive information about 4CF Sp. z o.o. and its activities. We may transfer the data to our suppliers of services related to the processing of personal data, e.g. IT service providers. Such entities process data on the basis of a contract with our company and only in accordance with our instructions. You have the right to request access to your personal data, its rectification, deletion or limitation of processing, as well as the right to lodge a complaint with the supervisory authority. More information about your rights and about the processing of your personal data can be found in our privacy policy.