Kacper Nosarzewski at the European Forum for New Ideas
Kacper Nosarzewski at the European Forum for New Ideas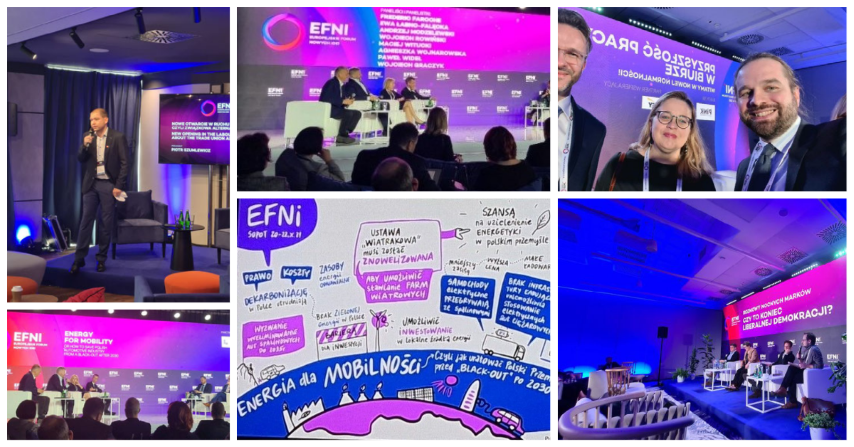 The future of office work – welcome to the new normal! The changes in our habits caused by the pandemic and the new challenges for office work were discussed at EFNI 2021 during a panel organised by the Polish Chamber of Commercial Real Estate. The panellists included Iwona Kozera, founder of the Business Leaders Foundation and Kacper Nosarzewski, futurist, member of the board at the Polish Society for Futures Studies and partner at 4CF Strategic Foresight.
Other panels were also thoroughly engaging.
Polish automotive sector suppliers must take steps to become carbon neutral, or they will drop out of their customers' value chains. The view was expressed by Dr Ewa Łabno-Falęcka (MB) and Wojciech Rowiński (Scania) during the Energy for Mobility panel.
Piotr Szumlewicz argues for the full transparency of wages, income and expenses of employers' organisations and trade unions. He also proposes that full-time trade union members should be paid by the National Labor Inspectorate rather than their employers.
Maciej Witucki from the Lewiatan Confederation noted that visions of startup innovations meant to revolutionise the energy and electromobility sectors (*on a scale of 1kW) do more harm than good.
Frederic Faroche from Veolia Poland discussed the need for regulatory initiatives that would facilitate the decarbonisation of the heating industry: we should not change what works (RES and biomass) but change whatever does not work (risk division that influences tariffs).
We also witnessed an interesting discussion conducted by Tomasz Sawczuk from Kultura Liberalna about the end of liberal democracy.
Stay updated! Subscribe to our newsletter:
By subscribing to our newsletter, you consent to the processing of the provided data. The data controller is 4CF Sp. z o.o., its registered office is located in Warsaw, 9 Wojciecha Górskiego St., postal code: 00-033.
We process your data solely for the purpose of sending information about 4CF Sp. z o.o. and its activities via e-mail. Your data will be processed until your consent is revoked through a  link that will be included in each newsletter. The withdrawal of consent shall not affect the lawfulness of processing based on consent before its withdrawal. Providing your data is voluntary, but necessary if you wish to receive information about 4CF Sp. z o.o. and its activities. We may transfer the data to our suppliers of services related to the processing of personal data, e.g. IT service providers. Such entities process data on the basis of a contract with our company and only in accordance with our instructions. You have the right to request access to your personal data, its rectification, deletion or limitation of processing, as well as the right to lodge a complaint with the supervisory authority. More information about your rights and about the processing of your personal data can be found in our privacy policy.