European Economic Congress in Katowice
European Economic Congress in Katowice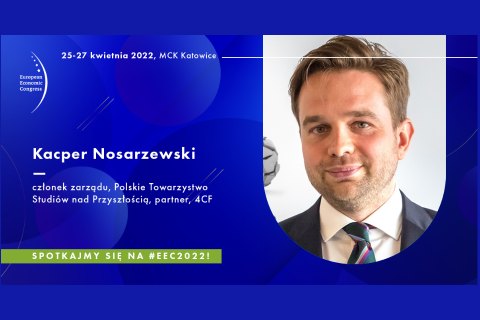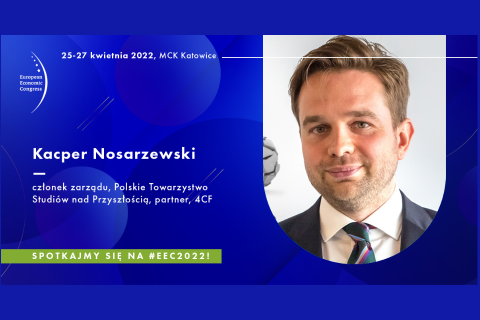 The European Economic Congress (EEC) in Katowice, a forum for meetings and debates about challenges and the future, is underway. A topic particularly important and close to 4CF Strategic Foresight is green and digital transformation and the strategies of large companies and local communities to achieve sustainable development without compromising competitiveness. 
During our stay we followed a number of speeches and debates, from which we present a selection of short reports that particularly caught our attention. 
On artificial intelligence and machine learning…
"In the factory of the future there are: 1 human and 1 dog. The human is needed to feed the dog, and the dog makes sure the human doesn't touch anything." Maciej T. Zielinski, president of Siemens in Poland, reminded us of this old joke, which is getting closer to reality, at least with modern production lines. Machine learning makes it possible. But the same development of artificial intelligence means that, in turn, at ING Poland, people are still needed – because artificial intelligence supports cyber bandits in creating threats to banks and, above all, customers.
On Renewables…
"The fight for licenses and plots on the Baltic Sea needed for the development of offshore wind farms continues. Is it possible to close the Baltic only for Polish companies? "Local content" is important, but in the end these will be joint projects of Polish and foreign companies. Many new jobs" – industry representatives said. "The share of Polish entities in offshore wind farm projects can reach 40%, in the case of biogas plants the "Polish content" is 70%, thanks to 15. years of experience" – PFR representative said. Orlen, in turn, announced that it wants to be the offshore leader in Poland and is also looking for partners in other Baltic countries. The president of Corab mentioned 4 levers of photovoltaic development: access to financing, ready-made solutions for SMP, energy storage and agro-installations.
Regulation of human and labour rights in supply chains …
We also noted the speech of a representative of CMS Cameron McKenna, who confirmed the hypotheses that Kacper Nosarzewski of 4CF posed at last year's ECC regarding the expected regulation of human and labour rights in supply chains. Companies that do not care about standards and do not audit their suppliers may face serious consequences, both contractually and under common law.
On the second day, Kacper Nosarzewski of 4CF Strategic Foresight had the pleasure of speaking on a panel about smart cities and society 5.0 and discussing whether we can treat smart infrastructure as a smart city? Will smart cities develop according to the needs of the inhabitants or will they rather be colonised by suppliers?  He then moderated a panel at the European Forum of Young Leaders entitled: "Cities of the future. Where and how do we want to work?". It feels so good to see young people engage in causes that matter.
It is always a pleasure to return to Katowice for the always well-organised ECC, to meet and have interesting discussions with partners and other participants. See you next year!
Stay updated! Subscribe to our newsletter:
By subscribing to our newsletter, you consent to the processing of the provided data. The data controller is 4CF Sp. z o.o., its registered office is located in Warsaw, 9 Wojciecha Górskiego St., postal code: 00-033.
We process your data solely for the purpose of sending information about 4CF Sp. z o.o. and its activities via e-mail. Your data will be processed until your consent is revoked through a  link that will be included in each newsletter. The withdrawal of consent shall not affect the lawfulness of processing based on consent before its withdrawal. Providing your data is voluntary, but necessary if you wish to receive information about 4CF Sp. z o.o. and its activities. We may transfer the data to our suppliers of services related to the processing of personal data, e.g. IT service providers. Such entities process data on the basis of a contract with our company and only in accordance with our instructions. You have the right to request access to your personal data, its rectification, deletion or limitation of processing, as well as the right to lodge a complaint with the supervisory authority. More information about your rights and about the processing of your personal data can be found in our privacy policy.