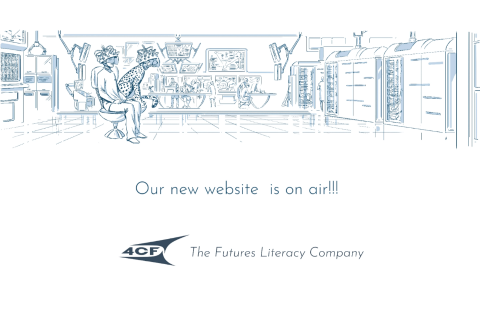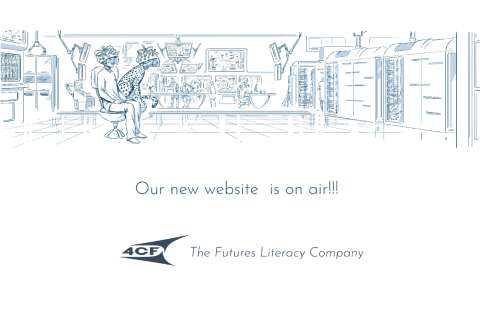 We are more than happy to announce the launch of our newly designed website. It was time for a fresh new look to accompany our great progress and nearly 20 years of presence on the market. Our mission was to make the brand new website more friendly to our current and prospect clients and more relevant to our development. We made the website faster, easier to navigate, and more user-friendly. We are especially proud, as we developed the site only with internal resources. Our staff has spent a lot of time building it from scratch, and we are delighted to officially announce its launch. At this occasion, we also want to give a special tribute to our illustrator Tomasz Łaz, author of all the illustrations and icons which make the design of our new webpage unique and inspiring. Check it out at 4CF.pl. We hope you will like it!
What's NEW on our website?
The world is changing at an astounding pace. As a leading foresight company, it's important for us to outpace the change and make information on future scenarios available to our clients and wider public. Thus, it is crucial to make our services, solutions and products easily accessible for our current and prospective clients, so they can use the future to thrive in the fast changing world and in 10, 20 or 50 years ahead. 
We wanted to make your experience as smooth and seamless as possible, and so we have developed the new, easier to navigate architecture, made more information available to you – more case studies, reports and analysis, which we have worked on recently and in the past. You can also find out more about the methods we use in our rigorous approach to each and every foresight project. We will be constantly updating our website content with insights, up-to-date information, company announcements and most important foresight and business events, sharing our knowledge and expertise in the field of foresight and futures. Don't miss our blog! For more insights and examples of foresight projects check periodically the case studies and analysis sections.
Sign up to our newsletter!
You can also sign up for our free newsletter, to receive inspiring articles about the unexpected but possible future, and information about our products and services. The newsletter will be sent no more often than once a month. You can be assured that we will not spam!
Find out more about our world's leading foresight tools and solutions!
As a world's leading innovator in foresight tools and applications, we never stop working on new solutions to support our work for clients. Thus, the website includes now descriptions of our key foresight tools and solutions, which are available "off-the-shelf": 
4CF FleX – unique online and workshop experience for you and your team,

4CF HalnyX

Ⓡ –

– the most advanced fourth-generation Delphi platform in the world,

4CF PnyX – a powerful app for advanced research and workshops,

4CF Stranger Futures

Ⓡ

– strategy board game that helps you identify groundbreaking changes in the near and more distant future.
Interested in the future of your life or business? Contact us!
Whether you are thinking about the future of markets or you are wishing to stay ahead of your competition, looking for paths of development and innovation, you can always search for what you need on our new website or reach us for a free consultation. We are here to help you.
If you have any questions, suggestions or comments, please contact us for further support.
Thank You!
4CF Team
Stay updated! Subscribe to our newsletter:
By subscribing to our newsletter, you consent to the processing of the provided data. The data controller is 4CF Sp. z o.o., its registered office is located in Warsaw, 9 Wojciecha Górskiego St., postal code: 00-033.
We process your data solely for the purpose of sending information about 4CF Sp. z o.o. and its activities via e-mail. Your data will be processed until your consent is revoked through a  link that will be included in each newsletter. The withdrawal of consent shall not affect the lawfulness of processing based on consent before its withdrawal. Providing your data is voluntary, but necessary if you wish to receive information about 4CF Sp. z o.o. and its activities. We may transfer the data to our suppliers of services related to the processing of personal data, e.g. IT service providers. Such entities process data on the basis of a contract with our company and only in accordance with our instructions. You have the right to request access to your personal data, its rectification, deletion or limitation of processing, as well as the right to lodge a complaint with the supervisory authority. More information about your rights and about the processing of your personal data can be found in our privacy policy.