4CF gamebooks at the Speculative Futures Berlin event
4CF gamebooks at the Speculative Futures Berlin event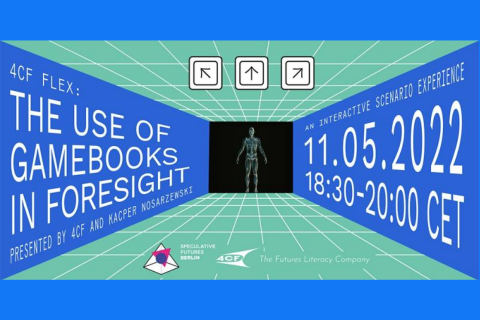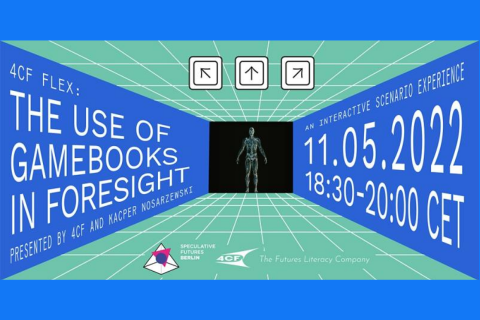 How can we improve the learning experience of scenarioanalysis? Let's find out in Speculative Futures Berlin and Ellery Studio next workshop event on the 11th of May, 18:30 – 20:00 CET with Kacper Nosarzewski from 4CF Strategic Foresight and the immersive capabilities of interactive fiction – gamebooks.
Gamebooks allow the reader to immerse themselves in the scenario better than just passively reading or watching a video clip. They present the intricacies and dilemmas of the futures presented in a given scenario as actual events experienced from a first-person-perspective instead of mere future-someone problems. During the workshop you will be able to go through a scenario+gamebook pathway facilitated by experts from the 4CF team, as well as discuss the benefits and limitations of this novel foresight technique.
Stay updated! Subscribe to our newsletter:
By subscribing to our newsletter, you consent to the processing of the provided data. The data controller is 4CF Sp. z o.o., its registered office is located in Warsaw, 9 Wojciecha Górskiego St., postal code: 00-033.
We process your data solely for the purpose of sending information about 4CF Sp. z o.o. and its activities via e-mail. Your data will be processed until your consent is revoked through a  link that will be included in each newsletter. The withdrawal of consent shall not affect the lawfulness of processing based on consent before its withdrawal. Providing your data is voluntary, but necessary if you wish to receive information about 4CF Sp. z o.o. and its activities. We may transfer the data to our suppliers of services related to the processing of personal data, e.g. IT service providers. Such entities process data on the basis of a contract with our company and only in accordance with our instructions. You have the right to request access to your personal data, its rectification, deletion or limitation of processing, as well as the right to lodge a complaint with the supervisory authority. More information about your rights and about the processing of your personal data can be found in our privacy policy.