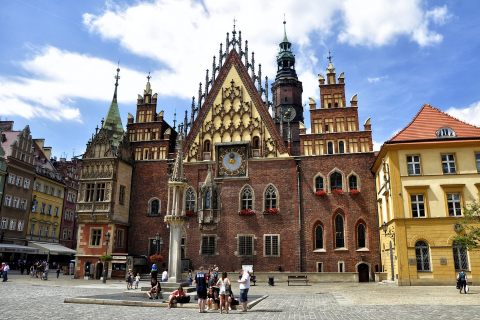 The local government in Wrocław wished to prepare the city and its inhabitants for any upcoming challenges and to develop a strategy up to 2050 with the use of effective, modern tools. 4CF was invited to conduct a foresight study and develop scenarios of the city's future.

The study was divided into stages designed to identify sources of data on trends and changes in the immediate and more distant surroundings of Wrocław. Uncertainties with an outlook to the year 2050 were also identified, classified and assessed in terms of their potential impact on the city's development. At the core of the study were consultations with specialists (including experts located outside Wrocław) from various areas of economic and social life.

The study resulted in a report containing four multi-domain scenarios of the city's development by 2050. They were accompanied by fictionalisations, i.e. short literary forms that allow the reader to "experience" the reality of each scenario.
Future scenarios Wrocław 2050 Learn more ⟶
Russian-Ukrainian war development scenarios Learn more ⟶